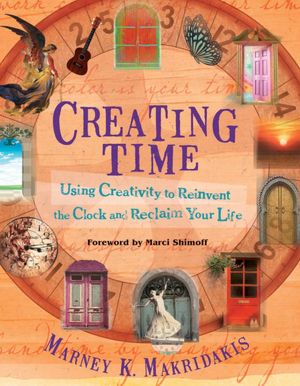 Have you ever thought much about the illusion of time? What is time?
Whatever it is, I never seem to have enough of it. Do you?
Time appears to move differently for everyone. I remember that as a child, time dragged on forever for me. Once, when I was five or six years old and went to visit my cousin over night, I was so homesick that I thought the time away from my mother would never end.
Endless time is difficult.
Several years ago, an older man told me that when he reached the age of fifty, time began to fly ever faster. That's because unlike a child with 10 years to relate to in time, an older person has many years. The months between Christmases go ever faster in those later years. It was like age 50 was a hump for him, and the pace of time changed thereafter.
Recently, I started reading
Creating Time by Marney K. Makridakis
. As an artist as well as an author, I enjoyed the art work sprinkled throughout the book. In the chapter, Your Relationship with Time, she talks about personifying the entity of time.
"Your Time Guide is an imaginary persona that you create, a benevolent figure who supports you fully and gives you exactly what you need in the area of time," Makridakis says.
She gives an "ARTsignment" of conversing through letter writing with your Time Guide. I like that idea and intend to try it.
I found her chapter on Time and Relativity fascinating. She begins by discussing Einstein's theory of relativity and notes some of his thoughts on it. Because I have a poster in my classroom with an Einstein quote, "Imagination is more important than knowledge," I was especially interested in his thoughts on the subject of time.
The Einstein time implication, "Time is relative to the position of the observer who measures it," (from Makridakis' book) explains what my friend experienced after he reached age 50.
I love the "ARTsignment" Galleries in this book. I intend to study them and create some of my own.
Please take a look at the
Book Trailer for Creating Time
.
Time is an illusion. We all see it in our own unique perspectives.
Creating Time
will inspire you to experience time in diverse and sometimes magical ways.
Copyright 2012 Mary Montague Sikes
Marney K. Makridakis
is the author of Creating Time.
She founded the Artella online community for creators of all kinds and the print magazine Artella. A popular speaker and workshop leader, she created the ARTbundance approach of self-discovery through art. She lives in Dallas, Texas. Visit her online at
http://www.artellaland.com
.
Corner Cafe