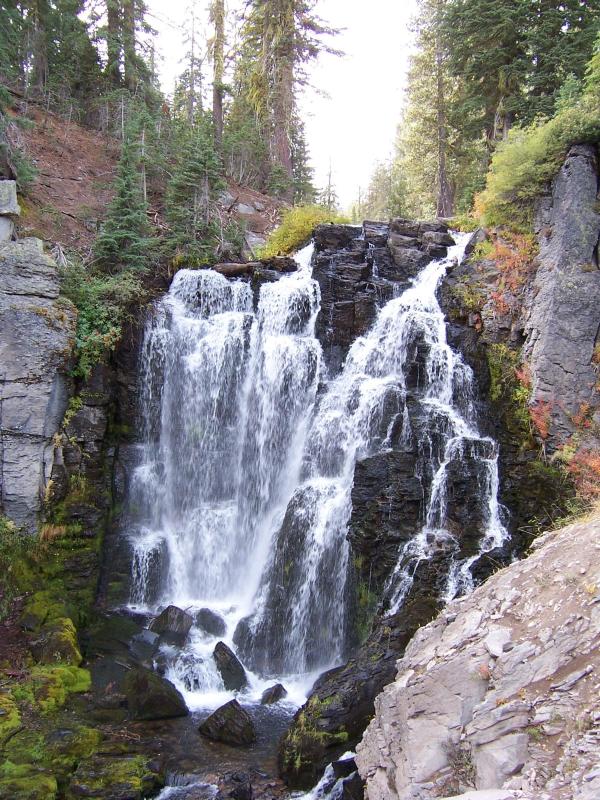 Kings Creek Falls, National Parks Service photo
Lassen Volcanic National Park
sounds like a perfect place for the photographer to visit. If it has boiling mud pots, I will love it because I considered the mud pots the most scenic spots in Yellowstone. Waterfalls are wonderful for photos and paintings as well. The Kings Creek Falls is a beautiful example of the kind of scenes that draw visitors to National Parks.
Established in 1916, Lassen is one of our nation's oldest National Parks. Lassen Peak is still considered an active volcano although it has not erupted since 1917. Steam and ashes spewed from the volcano from 1914 to the early months of 1915. Then in May 1915, the top of the mountain exploded creating devastation a mile wide and three miles long. Lassen Peak has been quiet since 1921.
Is a visit to Lassen possible while visiting Crater Lake? Lassen in California is about 250 miles from Crater Lake National Park in Oregon and a four and 1/2 hour drive. We probably won't do it this summer, but Lassen is a National Park worth the visit. Mud pots, fumaroles, hot springs, and waterfalls make a photographer's dream.