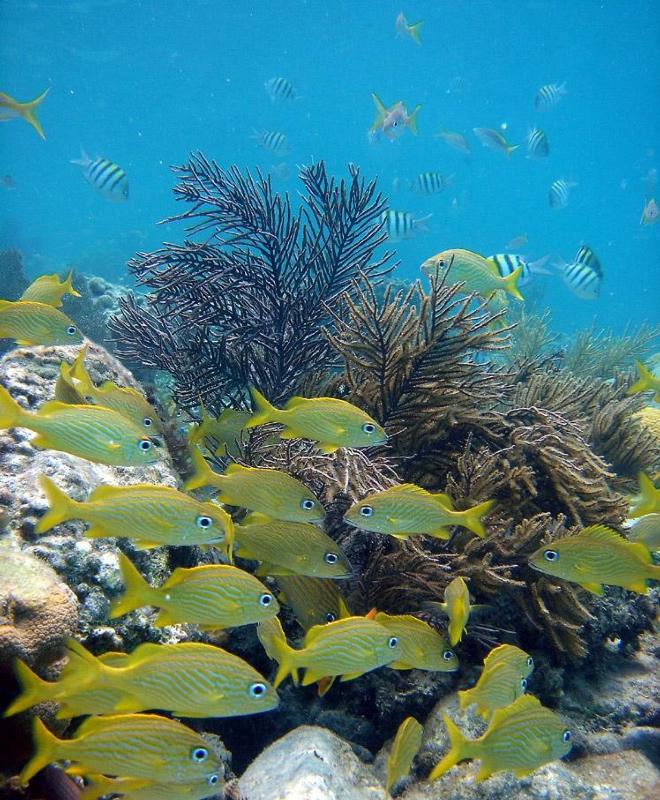 French Grunts - National Park Service Photo
The island of St. John is the location of the 7000-acre
Virgin Islands National Park
. In addition, the park includes about 95% of Hassel Island which is the western edge of St. Thomas Harbor. Hassel Island is about 135 acres in size and is 267 feet high.
Years ago, when we visited St. Thomas, we took a catamaran day-long trip to St. John and anchored offshore. The island is a lush-foliage paradise that features glorious beaches, hills, and valleys. Snorkeling and scuba diving are among the park's offerings, along with both short and long hiking trail excursions.
It is interesting to know that important prehistoric sites are located on almost every beach and bay in the National Park. I was unaware that many of these archeological sites date back to 840 BC. I also did not know about the Caribbean rock art found on the island.
There is a park alert currently for "two mosquito transmitted diseases (virus), Dengue, and Chikungunya Fever, now in the Caribbean. Both viruses are transmitted by Aedes species mosquitoes, which have black and white stripes markings." That news is disturbing.
I love the Caribbean islands and am glad the National Parks include the island of St. John. If we visit St. Thomas again, I'll be sure to go explore Hassel Island. I'll also visit the
Virgin Islands Archeology Blog
which tells about the experiences of some of the Virgin Islands National Park interns.
National Park Service Photo